Environmental Science (Session Full)
Daniel Hyke (Session full-6.9.19)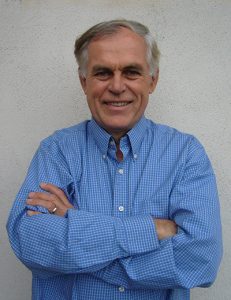 Daniel Hyke received his BA degree in Environmental Studies within the Department of Social Ecology at the University of California, Irvine in 1981.  His Masters degree was completed at California State University, Los Angeles.  He has taught regular Environmental Science, and AP Environmental Science at Alhambra High School in Southern California for over twenty years.
Daniel Hyke has been involved with the AP Environmental Science program since its inception twenty-one years ago.  He has participated in numerous readings over the years and has served both as a table leader and a question leader.  In addition, he has worked for the Alhambra Unified School District where he has taught AP Environmental Science most years since it was first offered by the College Board in 1997-98.
Daniel Hyke has been a presenter for the College Board for over twenty-two years leading one-day, two-day and one-week AP Environmental Science workshops.  He has presented throughout the United States and Canada helping teachers with their AP Environmental Science programs.
Several of Daniel's AP Environmental Science labs are now appearing in the laboratory manual and resource guide that accompanies the leading AP Environmental Science textbook: Miller's Living in the Environment.
 Daniel has served as a reviewer for several Environmental Science textbooks including Environment- the Science Behind the Stories by Brennan and Withgott He has created and edited several AP Environmental Science multiple choice tests found in the ancillary materials of leading AP Environmental Science textbooks.  He was a major contributor to McGraw-Hill's On Board for AP Environmental Science's website which is designed to help prepare students for taking the AP Environmental Science class.
He has been named one of the top twenty AP Instructors by the Western Region of the College Board and was voted "Teacher of the Year" by the students at Alhambra High School.
Course Description & Agenda
Day 1 (Ecology and Population)
Dan's Introduction Power Point-Importance of Environmental Science
Participant Introductions
Finish Introductory Power Point
Logistics for the Week (Bathrooms, Breaks, Lunch, Roll sheets, College credit, etc.)
Agenda for the week
Four Sources for your course: you, me, College Board, and your colleagues
Textbook of the Day
College Board's AP Environmental Science Course Outline
Dan's AP Environmental Science Course Outline
Power Point Presentation Fundamental Concepts: "Earth Island," "Easter Island," "Escape from the Planets of the Humans," and "Earth is a Special Place."
Ecocolumn Lab and the use of test kits and probe-ware
Morning Break
Allelopathy Lab
Fire Ecology Lab
Grass Decomposition Lab
"Introduction to Human Population Growth" Power Point
Introduction to Population Math
10,000 Years of Human Population Growth – Student Graphing Activity
Structure and purpose of the AP Environmental Science Exam
Go over select Multiple Choice Test questions from the 2016 released exam
Analysis and discussion of 2019 FRQ Number One
Foldable's for APES
"Making Connections" the effect of clear cutting on a river ecosystem
Lunch Break
Tragedy of the Commons – Activity
Duckweed Population Lab Setup
Salinization Lab Setup
Population Survey Simulation Using a Grid – Activity
Day 2 (Risk, Air, Water, and Global Climate)
Density Bottle Demo
Documentaries for APES
Power Point Special Emphasis: Big Idea's, Making Connections, and Problem Solving—the Common Core
The InterActive Notebook: An Effective Tool
Textbook of the Day
Lesson Plan Construction
AP Environmental Science Lectures – Using the PowerPoint Presentation
Power Point Example: Global Climate Change
Introduction to Risk Assessment: What is the safest year of your life?
The Fabulous Becker Bottle and Air Composition Bottle
What's a Billion? Worksheet
Water Allocation Demo
Water Pollution Presentations
Water Pollution Booklets
Water Unknowns Lab
Wastewater Treatment Labs – "Sewer Science" opportunity
Salmon Video
"Making Connections" worksheet: Salmon and the health of headwater ecosystems in the Pacific Northwest
Measuring Particle Size using a Light Microscope
Video Presentation: Students Conducting Particulate Lab
Jigsaws, Oral Reading, and Concept Mapping (Ocean Ecology Practice Example)
Morning Break
The role of the Multiple Choice Exam
Topic frequency for AP Exam Multi-choice questions
AP-Level Multi-Choice Exams Provided to Participants with Keys
Go over select Multiple Choice Test questions from the 2016 released exam and Practice exam
Analysis and discussion of 2019 FRQ Number Two
Lunch Break
Air Pollution Chemistry Activity
Parts Per Million Simulation Activity
LC50/LD50 Lab Using Live Daphnia magna (Setup)
Water purification and filtration lab
"History of Climate Change" on a Meter Stick Activity
Day 3 (Geology, Soil, Agriculture, Pesticides, Land-Use, and Species)
Put Daphnia into test conditions
Textbook of the Day
The Impact of Agriculture ("Worst Mistake" article by Jared Diamond)
Apple as the Earth demonstration and discussion of the impact of Agriculture
Working with a soil sieve
Soil Labs: Particle Size Lab, Percolation Lab, Soil Texture Lab, Soil Analysis Lab
Soil Nutrient Depletion Lab
Behavioral Tray Use
The "Square Meter," the hectare, and the "Square Kilometer"
"Making Connections" How the inside of the Earth creates species diversity.
Rhino Article brainstorming activity
Ancillary Books for APES
Morning Break
The role of the Free Response Question
Twenty Years of AP Environmental Science FRQ's
How to Grade FRQ's efficiently
Analysis and discussion of 2019 FRQ Number Three
Go over select Multiple Choice Test questions from the 2016 released exam
Using Scientific Notation: A Refresher
Net Primary Productivity Worksheet – Applying Scientific Notation
Problem of the Day: Biking versus Driving
Lunch Break
LC50/LD50 Lab Using Live Daphnia magna (Data collection and analysis)
Salinization Lab (Data collection and analysis)
Finish Water Purification Lab
Species Diversity Analysis Lab
Island Biogeography Simulation
Day 4 (Solid & Toxic Wastes and Energy)
Mass Weights Demonstration
Textbook of the Day
Interpreting the Energy Chart
Aluminum Can Recycling Activity (the stealth fundraiser)
Aluminum Can Problem Solving Activity
Repurposing Activity
Landfill Model Lab
Landfill Model Video Presentation
Solar Cell Energy Activity with Worksheet
Solar Car Lab
Solar Car Lab Video Presentation
Hydrogen Fuel Cell Car
"Making Connections" Coal Burning Power Plants and Mercury Impacts
Taking Students on Field Trips
Problem of the Day: Coal Burning
Morning Break
How the AP Environmental Science Exam is graded
Preparing for the AP Exam (mini-posters, 20-30 minutes per night starting two months ahead, flashcard cakewalk, after school and weekend sessions, games teachers play)
Analysis and Discussion of 2019 FRQ Number Four
Go over select Multiple Choice questions from the 2016 released M.C. exam
Radioactive Waste Problem
Participant Sharing Session – Participants Will Share Labs and Activities with the Group – Time Limit: Twenty Minutes Per Person– Sign-Up sheet will be passed around on the first day of class.
Lunch Break
Participant Sharing Session Continued
Workshop Evaluations
Duckweed Population Growth Lab – Data Collection and Growth Analysis
Resource Recovery Activity
Alternative Energy Fuels lab
Goodbye and Good Luck